March

14

2012
I'm not sure why everyone hates Mass Effect 3's ending with such passion.  I liked it.  I like the series as a whole.  It's not a perfect series by any means, but remains solid, well-crafted, and enjoyable.  I didn't see any gaping plot hole in the ending, but it has been quite a while since I played ME2, and longer still since I played the original.  Perhaps I have forgotten something?
I've tried my best to understand why such a vocal number of people seem to despise the ending.  Is it a direct result of BioWare's partnership with EA?  The disappointing show of Dragon Age 2?  Is it the day one DLC that they've already been doing for the past few games?  I certainly didn't see any problems in Mass Effect 3's ending, but all I hear on the web is "plot hole" this and "plot hole" that, and calls for a complete rewriting of the series.
Why?
(Possible spoilers from here on out)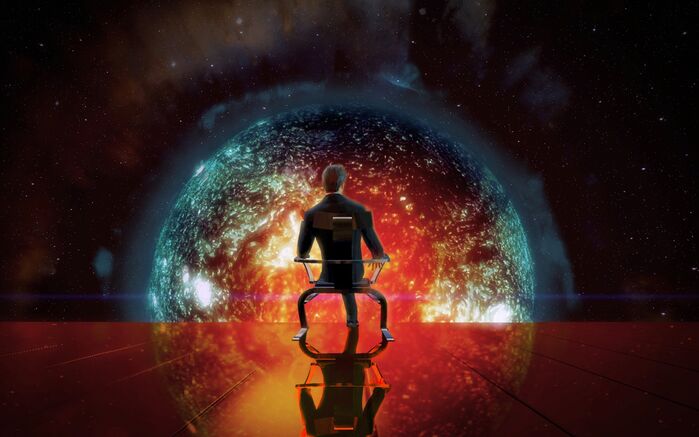 At face value, the Crucible does seem to be a giant piece of deus ex machina.  It's something never before mentioned in the series and yet promises to be the saving grace of all life in the Milky Way galaxy.  But we're introduced to it early–-the second mission of the game, in fact–-and we have a lot of time to think on its possibilities.  Is it a superweapon like in Halo?  Is it a dud?  Is it a Reaper trap?  The biggest question, however, is in regards to "the Catalyst," this key component necessary to activate the Crucible.
Now, maybe I play too many video games, watch too many movies and TV shows, but right there I assumed Shepard was the Catalyst, and Shepard was going to have to make a sacrifice.  It's all right there in the name!  What has Shepard been throughout this trilogy if not the catalyst?  He's been the one transforming the galaxy; he's been at the eye of the storm at every Reaper incursion.  So Shepard was going to die.  I was at peace with that.  This is a war, after all.  A huge, galactic one.  It didn't seem possible that the whole crew could escape without dying?
And to emphasize this, BioWare gives us a few sacrifices.  Mordin, for example, sacrificing himself to cure the genophage (if you went that route).  I instantly saw it as foreshadowing Shepard's eventual sacrifice.  Then there's Thane, someone who, like Shepard, might have deserved a quiet, dignified death after so much fighting.  Instead, he's cut down in a fierce battle.  There's also a general tone in the crew–Chakwas wanting to break open their annual bottle early, Garrus speaking about dying and enjoying a drink in heaven.  Yes, the paragon dialogue choices promise hope and encouragement, but that doesn't mean it'll happen.  Shepard is simply trying to rally and encourage his troops in a hopeful way.  Those words don't remove the specter of death that hangs over each event.
So after our struggles, after the time-consuming quest to gather war assets (or galactic readiness, if you did multiplayer or iOS apps), we come to the climax.  We meet the Catalyst who, as it turns out, is an artificial intelligence that lives within the Citadel.  It controls the Reapers, orchestrating their harvest throughout the galaxy.  It's not unlike meeting the Architect in the Matrix: Reloaded.  Here's where people start to have problems.  Here's where the deus ex machina card starts to get thrown around.
But why?
By this point, the Prothean VI has already explained to us that the Crucible was not of their design.  It's actually been around for more cycles than we can guess.  Possibly even of Reaper design, as most advanced technology such as the mass relays and the Citadel come from them.  That should be a warning to us that the Crucible is not the convenient, conventional savior that we want it to be.  Vendetta (the VI) even goes on to speculate how the Reapers are just as trapped in the cycle as the other races are, despite their overwhelming power.  He points to some hidden master orchestrating everything.
So we shouldn't really be surprised that the Catalyst is evil, right?  I mean, who did we think controlled the Reapers?  The Illusive Man?  Anderson?  Maybe Hackett.  The Catalyst explains the purpose behind the cycle: to ensure the survival of organics.  It became convinced that some day, synthetic life would arise to become the dominant intelligence in the galaxy, thus eradicating all other organic life.  To prevent this, the Catalyst constructed the Reapers to harvest organic life, preserving the minds of billions each cycle, adding to a collective, organic intelligence.  It was the most efficient solution, as less advanced species were then free to evolve in an endless cycle, one not so dissimilar to life and death.
Now, some people have problems with this.  That's fine.  The Catalyst's solution is quite problematic.  However, this is not a plot hole.  Gazing upon multiple possibilities, the Catalyst chose one that was easy to maintain and enforce.  A compromise, of sorts.  Organic life was free to flourish, to mature, and eventually be preserved among the Reapers' collective mind.  It didn't care whether or not people would prefer to have their own bodies, their own minds, nor did it wish to be bogged down in endless debates, cycle after cycle, with such inferior races.  So it made its choice, and for millions of years that choice proved acceptable.  This chaos it so feared was continuously avoided.
That, I repeat, is not a plot hole.  That is perfectly in-line with everything we know about the Reapers and their motivations.  At first it seems like they kill everyone, transforming people into husks, but as Sovereign says: their motivations are beyond our understanding.  And that's true.  The Reapers are so far advanced compared to the Council races that there'd be no point in explaining their intentions.  If they marched right up to the Citadel in the first game and told the Council they were harvesting them in order to save them, collecting their minds but destroying their bodies to prevent a thing that hasn't yet happened (as the Geth are symptomatic of the Catalyst's fear, but not the singularity itself), the Council would have balked at such a notion!  And why not?  It sounds like a terrible idea!
But the Council, as we've seen through the games, is short-sighted, conceited, and less concerned with galactic issues than local ones.  The Catalyst, on the other hand, claims to look at the bigger picture.  It believes the singularity is a threat to all organic life.   It believes that no promise given would be a certainty against its creation.  After all, it only needs to look on the greed of organics, the schism of Alliance and Cerberus, to know that someone will do it for no better reason than "We can."  So, rather than debate, it employs Reapers to cultivate highly evolved organics.  It thinks it's so superior to all other races and acts according.  That's a force with their own agenda that's disagreeable to our own.  That's exactly what a villain is!  BioWare did a great job in crafting a villainous force.  The cycle is not a plot hole, it's a plan that follows through on the Reaper's logic.
So what about the endings?  The pick one of three options to determine one of three endings?  Well, that's a trite bit of gameplay formula.  There's no denying that.  It's a rather disappointing way of choosing the ending, rather than having it come about organically.  Still, the options did give me pause.  No, not to retch.  Whether you want to destroy or enslave the Reapers, or bring about a new synthesis of life, each choice has severe repercussions in the Mass Effect universe.  It's a choice with a lot of weight, and, if you've invested enough in the world and characters, you really feel it.
Are you disappointed that Shepard doesn't survive?  That, unlike Halo, there's no final eulogy for him as there is for the Master Chief?  Did you want closure for all the friends you gathered along the way?  Maybe see their faces on the Memorial Wall?  I can't fault you for that.  I wouldn't have minded that sort of ending either.  But to get that ending after the choices provided, after the information presented, would have truly ruined the game.
Maybe you wanted some final showdown, but showdown with who?  Hackett says time and again that conventional warfare will not succeed against the Reapers.  It's hammered into you at every stage of the game.  The Turians will lose Palaven, even with the Krogan's help as Garrus advises the Primarch to pull out the fleet.  The Asari lose Thessia.  Earth is subjected by the Reapers.  No one fleet, even composed of the entire galaxy, could compete with the Reapers' advanced tech.  The Protheans lost a war of attrition with the Reapers.  It won't work.
So the Crucible's existence is justified according to the plot.  One weapon with the power to stop the Reapers.  Conventional warfare won't work, and the Reapers won't discuss an armistice.  Maybe it is a deus ex machina.  Maybe it's weak writing to put your characters and story in a corner where they need a device like that.  But it'd be just as weak and trite to make the game where killing one person stops a whole army.
To win the war, the Crucible enacts a galaxy-wide transformation by overloading and destroying the mass relays.  For all three endings, this is true.  This is not Halo where the rings will continue to float on in a dormant state after use.  The Catalyst is quite clear on this.  Whatever choice your Shepard makes, you are severing the galactic ties that you've struggled so hard to build.  The fleets that flew to Earth?  They won't ever return to their homeworlds.  Wrex might never see Eve and his Krogan clutch, Jacob might be forever cut off from Brynn and his newborn girl, Samara might never see her last daughter, and Miranda might never see her sister.  Depressing, yes?  Makes you feel as though everything you've done to rally this fleet seem futile?
Except by fostering better interspecies relations, you've actually helped them.  They'll be forced to coexist now, on whatever system they happen to inhabit.  If you hadn't done all of that, if Shepard hadn't done all of that, then not only would defeating the Reapers have been impossible, but so would rebuilding.  This is emphasized in almost every conversation with Hackett and Anderson, with Wrex and the Turian Primarch, even among the Quarian admiralty.  Shepard, and by extension, you, brought the universe together for a single purpose.  You showed it was possible.  You gave everyone hope.
And, if you managed to get the synthesis option, hope is what you're left with.
Hope has been the prevalent, universal theme throughout the Mass Effect series, whether you were paragon or renegade.  Hope is what I had when I saw the Stargazer and his child.  Yes, it might have been nicer to see more of our crew over the three games, but with the Stargazer and child we still get closure.  Life goes on.  The war was won.